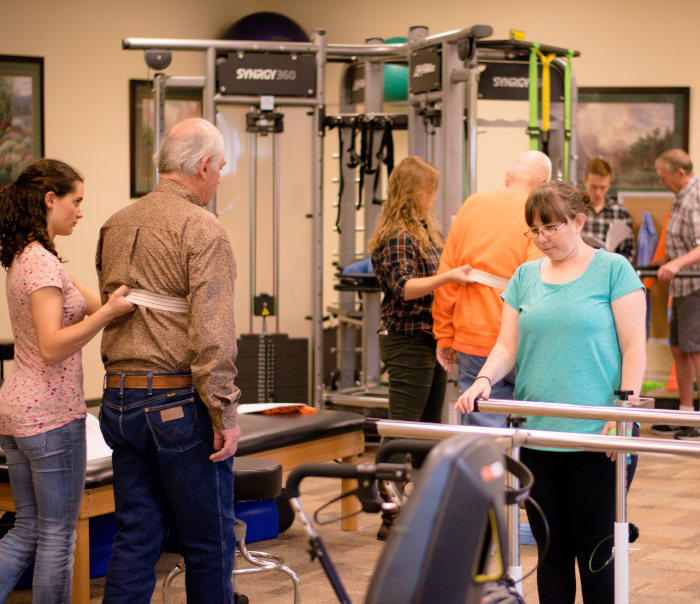 Volunteers at the Community Rehabilitation Clinic (also known as the CRC or CRC Physical Therapy) are most welcome. It is a friendly, educational, and rewarding experience.
The RMU Foundation that oversees the CRC is a non-profit organization that provides free physical therapy for the underserved community. The only requirements for CRC patients to be accepted are no health insurance or low or no income. 
CRC services are completely free for patients, and the clinic is run by grants and donations from private foundations, corporations, municipalities, and individuals. Rocky Mountain University Foundation provides the operational support  and is closely associated with Rocky Mountain University.  Physical therapy faculty at the University are very education-based so they are willing to answer questions and teach as they provide rehabilitation care.
Several different aspects of physical therapy are covered at the CRC: orthopedic, neurological (which specifically includes an MS-specific wellness program that is twice a week), EMGs (nerve conduction studies), vestibular, and pelvic floor therapy.
If you have any questions, please contact the CRC at (801)375-2041 or email at admin.crc@rmucrc.org.
RMU provides a course that gives their students the chance to volunteer and serve at the CRC and receive credit for it. To enroll in the RMU 3 Credit Hour Service Learning Course (SL540) please fill out a volunteer application form below.
For any questions please contact Dr. Joel Tenbrink, Assistant Director of DPT program at RMU at (801)734-6856.
Internship opportunities for BYU and UVU students are available now.  For more information on applying for an internship, please contact the CRC at 801-375-2041.