The summer season was one of success as the Medical Speech-Language Pathology (MED SLP) students, staff, and faculty members united to complete the Center for Communicative Disorders (CCD) summer therapy camps. Under the banner of "Summer of Success," this initiative aimed to empower both students and clients while revolutionizing therapy techniques.
Dr. Sechtem's Inaugural Endoscopy Boot Camp Sets the Stage
In June, the CCD hosted the Inaugural Endoscopy Boot Camp, spearheaded by Dr. Sechtem. Graduate students from cohort six eagerly participated in this two-day camp that marked the beginning of their journey towards becoming proficient endoscopists for instrumental voice and swallowing evaluations. The second day of the camp was particularly immersive, providing students with invaluable hands-on experience.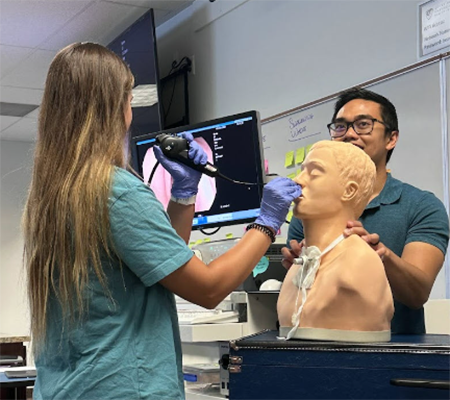 Those who completed the boot camp were offered continued practice opportunities under the guidance of various supervisors across the program. Notably, several recent graduates of the program have now become licensed and certified clinicians, offering their expertise in Ear, Nose and Throat (ENT) and Head and Neck Cancer clinics across the region.

Empowering Clients Through Creative Summer Camps
The CCD summer therapy camps spanned across various domains, guided by Wendy Chase, the Director of Clinical Education, and her dedicated team.
Fluency Camp for Empowering Young Speakers: Adjunct Professor Darrell Matthews led a fluency camp tailored for school-age children who stutter. The camp focused on equipping these children with strategies to enhance their speaking fluency, manage disfluencies, and boost their confidence as communicators.AAC Camps: Embracing Communication Devices: Dr. Priscilla Danielson and adjunct professor Allison Schuette ran Augmentative Communication Device (AAC) camps. Children with severe communication disorders engaged in summer activities while utilizing their AAC devices. The camps featured water play, yoga, games, and more, fostering both communication skills and enjoyment.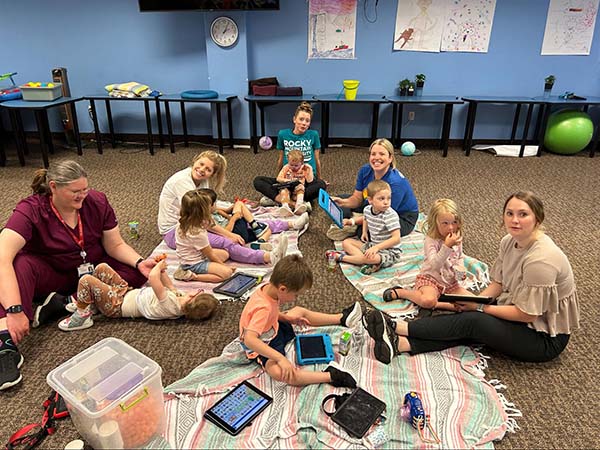 Language and Literacy Camps for All Ages: Camps catering to various age groups filled the halls with the vibrant voices of children. Pre-K, K-2, and literacy camps guided by Kristen Ipson and ElBea Stonier nurtured language and literacy skills through engaging activities.
Empowering Adults with Aphasia Camp: Tuesdays and Thursdays saw the halls bustling with activity as the CCD hosted an Aphasia Camp for adults. This initiative provided a platform for adults to enhance their communication skills in a supportive group setting.Readers Theatre Camp: Fostering Literacy Fluency: In late July, students and supervising clinicians, including Kristen Ipson, adjunct professor Mallory Bond, and Dr. Linda Spencer, hosted the Readers Theatre camp. This two-week program focused on literacy fluency and speech production skills, culminating in a heartwarming performance of "Stories From the Wayside School."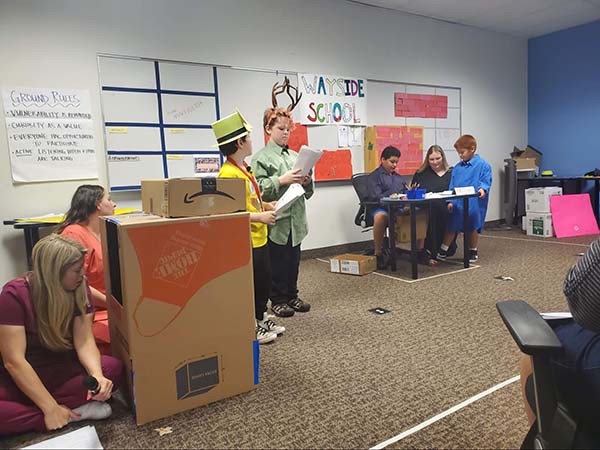 A Win-Win Scenario for All
The summer camp opportunities exemplify a win-win scenario for everyone involved. Clients receive exceptional care while practicing communication skills within a supportive group dynamic. Students gain invaluable clinical practice experience, honing their skills and expanding their expertise. Meanwhile, clinical educators adopt an efficient and creative approach to teaching, enriching the learning experience for graduate students.
In a season marked by collaboration, innovation, and transformative experiences, the RMU MED SLP students, staff, and faculty have truly created a Summer of Success.